Wrestlemania 33 is officially in the books and only time will tell how it compares to the ones before it but one thing is for sure, there was a lot to talk about. Join me as I take a look back through the show and give my honest and sometimes brutal reaction to the matches. If you disagree with anything I write feel free to call me an idiot on Twitter @nerdhubonline
Pre-Show
Before I start discussing the in-ring action and feel like I should admit something…I don't like wrestling shows in open air stadiums, so that put Wrestlemania on a back foot right away. The pre-show was okay, but you can just tell nothing big is really going to happen until the main show starts.
Cruiserweight Championship Match
Probably the best way to kick off the pre-show, I would have had it on the main show because this had the potential to be the match of the night, the two best cruiserweights in the WWE put on a really entertaining match, Austin Aries is incredibly talented and should be champion in the near future, with how good Neville has been since returning I think he should hold the belt until the next big PPV, or throw everyone in a ladder match, I'm happy with both.
Andre the Giant Battle Royal
My intro mentioned brutal reactions and here we go, what a massive disappointment. With so much talent in the match and how much Braun Strowman has been built up and you have this ending. Mojo Rawley and Jinder Mahal as the last two. Sami Zayn, Luke Harper and Dolph Ziggler should be pissed for having to take a back seat to Rob Gronkowski, I did laugh at the security fuck up though.
Intercontinental Championship
On the pre-show, oh how the stock in a title can fall in a year. Last year it was defended in one of the better ladder matches in WWE. I don't want to be too hard because the two put on a decent match with Corbin looking like a monster…you know…until he lost. It was just baffling that it was relegated to the pre-show.
Wrestlemania 33
As with all previous Wresletmania's it starts with someone singing "America the Beautiful" I don't know who she is but she was beautiful, I'm in love.
Moving on the hosts, The New Day doing what they do best, it's a little disappointing that they didn't have a match, even the Rock had a squash match when he was host.
AJ Styles vs Shane McMahon
Guess what everyone! Shane McMahon did something crazy! I couldn't believe he went for a shooting star press (That's how it's done Brock)
Still, AJ Styles needed to win and he did just that, I was surprised by how entertaining the match was and it just goes to show that with the right build up you can make the fans care about any type of match. This shouldn't have worked, but it did.
United States Championship Match
The battle of the former best friends, the best story line heading into KOMania 2
This was a great match, one of my favourite parts of the match was the rope break with a finger, it was classic Kevin Owens.
The powerbomb onto the apron looks absolutely brutal and was the perfect way to finish the match, I can't speak highly enough about it, it was great.
Raw Women's Championship Match
Nia Jax was the odd one in this match, I may be alone in thinking this but she didn't deserve to be there, once it went down to a triple threat they all but on a hell of a match, I've always been a big fan of elimination matches, it always seems to give more to the story telling aspect of it. Bayley got her Wrestlemania moment and it was the feel good feeling of the night.
Raw Tag Team Championship Match
And the Hardy's are back in WWE, with the biggest reaction of the night and the chants of "Delete" echoed around the arena. Goosebumps.
It always felt like this match was lacking a little something but WWE really pulled out all the stops, and they won the match, unbelievable scenes!
Raw should be interesting.
John Cena and Nikki Bella vs The Miz and Maryse
So, it turns out this match was nothing but an excuse for John Cena to propose to Nikki Bella, and the internet loved it.
Since it really didn't matter why not give the win the The Miz? for me it just made no sense, it was going to be a feel good moment no matter what but they could have elevated The Miz to the next level.
Seth Rollins vs Triple H
Elaborate entrance for Triple H, of course.
Pedigree's for everyone! one of the few matches on the RAW side that had any built up and again it showed, it was a brutal match with weapons being used by both superstars, not to mention Stephanie McMahon going through a table, which led to Seth Rollins picking up the win by hitting Triple H with a pedigree.
Special mention to the knee selling of Seth Rollins.
WWE Championship Match
Firstly we should probably talk about the visuals that were projected onto the ring during the match, I'm glad they did something different but my god it was weird, let me know your thoughts.
And Bray Wyatt loses in the first PPV since winning the championship, I'm disappointed, he could be one of best of this generation but it seems like the higher ups just aren't interested.
WWE Universal Championship Match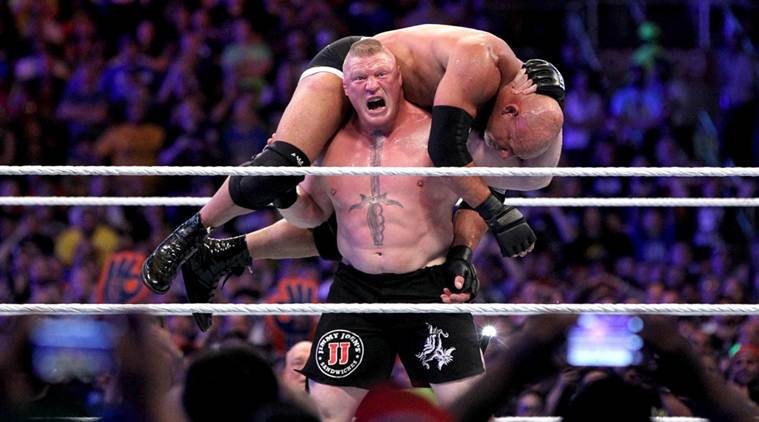 Brock Lesnar finally gets his win, and takes the championship in the process, it started off by Goldberg going to suplex city, getting right back and it seemed like we were going to get the same again, but no! Goldberg went back to suplex city and got pinned clean after being hit with an F5
Didn't quite hit 5 minutes but it was much longer than I was expecting.
Smackdown Women's Championship Match
A rare hometown win in the world of WWE, but another feel good moment, it's almost like they anticipated something to happen at the end of the night that would make people unhappy…
I really like Alexa Bliss so I'm incredibly annoyed she was forced to tap out, there was a ring full of people she could have beaten, Carmella for example.
Roman Reigns vs  The Undertaker
Good ol' JR was back to commentate.
As much as people hate Roman Reigns this was a good match, you can thank The Undertaker for that, he knows what makes a good match and this was it, it was 'No Holds Barred' and it needed to be, the weapons added to match and it was full of false finishes, it could have ended 5-6 during the match. But the big question, is that the last we've seen of The Undertaker?
And that was Wrestlemania 33 in a nut shell! I've asked a lot of questions, hopefully they will be answered in tonight's WWE Raw. As always feel free to comment and/or tweet us @nerdhubonline