The RAW after WrestleMania is always an interesting one and with one of the best crowds every year it promised to pick up where Wrestlemania left of with the same level of quality. But was it good? Join me as we look back at some highlights from RAW. Let me know your thoughts on RAW by commenting below or sending a tweet to @nerdhubonline.
Roman Reigns
As to be expected after the final scenes of WrestleMania RAW opened with chants of "Thank you Taker" for a good 5 minutes, while this was incredibly moving it couldn't last forever. And the man that ended his career came out to a chorus of boos and profanity related chants that I'm not happy to repeat here, but in all credit to him, that was one hell of a promo. 5 words, "This is my yard now" all it took for Roman Reigns to establish himself as the biggest heel on the roster.
Tag Team Championship match
If you didn't freak out when The Hardy Boys returned at Mania, are you even a wrestling fan? The first match after Mania opened with Gallows and Anderson vs The Hardy Boys for the RAW titles. There's nothing sweeter than hearing the drum beat opening on Monday Night RAW again. The match itself kicked off with resounding DELETE chants. The pace of The Hardys certainly hasn't wavered despite not wrestling together in the WWE for 9 years. The size of Gallows & Anderson certainly slowed the match in pace, but with The Hardy Boys prowess and technical wrestling, it kept the short match watchable.
The Hardys retain. And rightly so, WWE should learn after the mistakes made with The Dudley Boyz return.
Cruiserweights – Neville v Mustafa Ali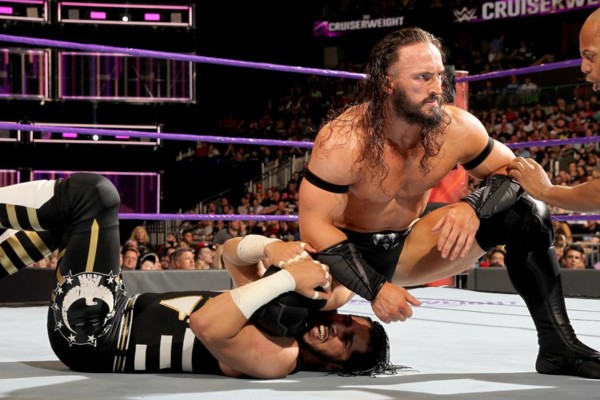 I still hate the purple theme. After retaining against Austin Aries at Wrestlemania, Neville returned to RAW to face Mustafa Ali. Credit to WWE because 5 years ago, Ali would have been a heel, that's just how they did things back then. Nothing much to say about this match, it was there to kill some time.
BIG DADDY MAC announcement
As soon as I saw Vince McMahon come out of that limo I knew a big announcement was coming our way. Vince was greeted with "Roman Sucks" chants. Next week we'll see a superstar shake-up.
Vince proceeded to announce that the new GM will be in place as Mick Foley is fired and Stephanie McMahon incapacitate from last night's Mania. The said individual was inducted into the 2017 HOF, when Teddy Long's theme came on. Teddy was unceremoniously rejected and you could feel the disappointment in the crowd. Poor, Teddy Long. Hearing the rousing and comedic "YOU SUCK" makes me pleased that Angle is the new GM of Raw. It was pretty predictable considering his interview with Corey Grave on the WWE Network. Kurt came out just to announced how great it is to be back on Monday Night Raw, whilst embracing the "YOU SUCK" chants.
The Revival Arrive
Can The New Day become any more cartoon like? Probably. The New Day were clearly disappointed they did not have an active role in Mania, i.e. a match, so issued an open challenge to the Raw locker room.  I'm a big fan of any open challenge because it gives opportunities for new debuts or returns, but for them to do this the night after Wrestlemania almost guaranteed something big. And so, we got the top guys, my favourite Tag Team in NXT and the newest biggest heels in the tag team division, The Arrival. The absolutely destroyed Kofi Kingston after picking up a win against the rest of The New Day.
Brock Lesnar
AND NEW UNIVERSAL CHAMPION. God that belt is ugly, luckily now Lesnar is champion we'll be seeing much less of it. This was Brock Lensar and Paul Heyman looking for a new challenger, and they went through the main event scene in RAW and with every name the crowd chanted for Finn Balor. So the scene is set for Reigns vs Lesnar at Wrestlemania (Don't boo me) but we had Braun Strowman interrupt and swiftly back down, a possible Payback match? In all honesty, he didn't win the Andre The Giant Battle Royal why does he deserve a match with Lesnar?
Finn Balor
And the biggest moment of the night for me, Chris Jericho is taken out earlier in the night meaning Seth Rollins needed to find another partner, luckily Kurt Angle is there to help. It leads to the match and as you'd expect once everyone is in the ring the crowd all stops to stare at the entrance way, the lights go out, his music hits and everyone goes wild. Finn Balor is back on RAW, and he looks in incredible shape. RAW finally has the top starts it was missing for the majority of last year, the "Dream Matches" they can put on now are endless.