We all enjoy trinkets, especially ones that relate to our favourite video games. I was lucky enough last year to pre-order Fallout 4 with the Pip-Boy. I was pretty pleased with myself as they never produced anymore after that. However, not all collectibles in gaming are really worth it. Let's take a look at some of best and some, well, why the hell did you even order that!
Fallout 4 Pip-Boy Edition
I'll start off with the most recent one. The Fallout 4 Pip-Boy Edition, as you can see, was worth the £100 price tag it attracted. A working Pip-Boy, a real charisma Bobblehead, steel book and a neat poster. If you were one of the first ones to pre-order this bad boy, you also received a free Vault 111 t-shirt.
Skyrim HD Remaster Dragonborn Bundle
The Skyrim HD Remaster is soon upon us, many excited and many are not. However, news has recently come out that they will be releasing a Skyrim Dragonborn Bundle for a price of $75.00. Sorry, but I will certainly not be wasting my money on a spongy looking Dovahkin mask. Given the lore and legend of Elder Scrolls I would expect to see something a little more worthwhile.
Geralt Statue 
The Witcher 3 Collector's Edition was priced for around $200 in the US. The hefty tag was mainly due to the deformity that was the 12″ Geralt figure. If you saw the promotional images, he looked pretty sweet but in real-life, it was an absolute mess. You can liken it to Facebook profile images, perfect looking and then you see their 'tagged' images – a mess.
Borderlands 2: Ultimate Loot Chest Limited Edition
This is probably one of the most packed Limited Edition sets I have ever seen. A price tag of $300 roughly, this collection really reflects what Borderlands is all about – loot! The chest is packed to the rafters with Borderland goodies, an absolute delight for fans of the game. What's even better, the chest is actually practical if you have small pets in your home.
Saints Row IV: The Super Dangerous Wad Wad Edition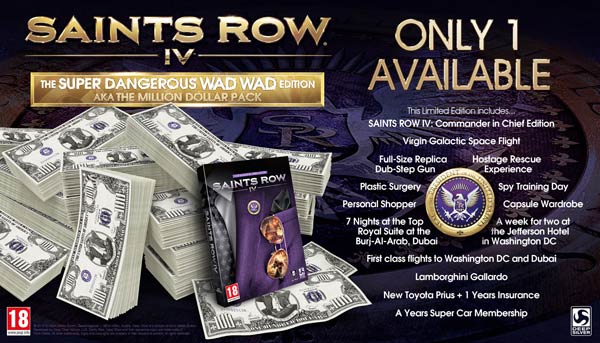 Ok, so this uber collection turned out to be a hoax, much to my bank account's relief, nevertheless, the collection is still pretty sweet. For a cool $1million you could bag yourself goodies which would certainly be in excess of the collector's price. So in hindsight, Deep Silver would be saving YOU money if you purchased this sweet collection. Imagine.
Halo 3
Halo 3's Legendary edition was cool, the premium one came with a neat replica of Master Chief's Helmet but unless you had a significantly small head you were not fitting into it. However, there was also the more modest Limited Edition which came with the usual stuff; art books, DVD, a poster and a collectible steel case. However, the steel case design was so flawed it wasn't able to hold the actual game in place. Many fans were left with scratched discs and an unplayable game by the time Halo 3 arrived, $150 for a broken game. Nice one.
So these a just a select best and worst sets we have picked out from over the years. What Editions have you bought in the past? Good or bad, let us know in the comments section below.