NXT Takeover is back and I can't wait so here at Nerdhub take a look at all the matches and give our thoughts on the match up and of course, who we think the eventual winner of each match will be. And of course, if you fancy yourself to be a know it all why Tweet us @nerdhubonline and send us your predictions!
The Revival v DIY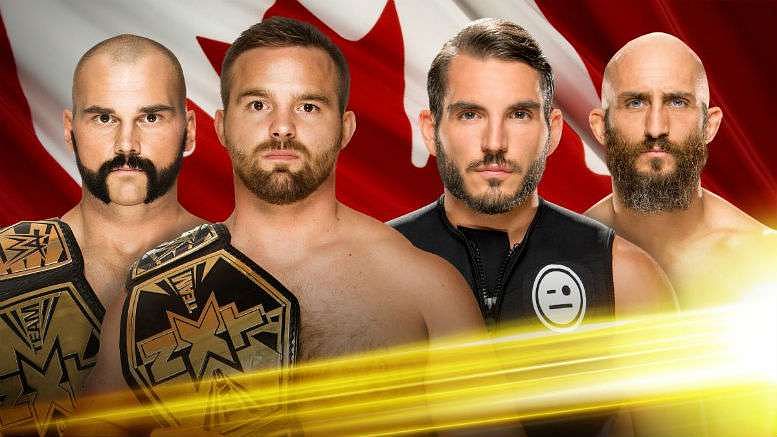 The Revival are the only two-time tag team champions in NXT history, but DIY are my favourite tag team at the moment, I may be listening to my heart rather than my head but I'm going for a DIY win here….and maybe…just maybe, the Smackdown tag Live division could do with a revival.
Winner – DIY
The Authors of Pain v TM-61
Either one of these teams is going to take over from Finn Balor and Samoa Joe and let's be honest, that's not a bad team to take over from. TM-61 have proved to be one of the most exciting teams in the division with a high-flying offence, on the other hand, The Authors Of Pain have been a destructive force I haven't seen since Nia Jax was called up to the main roster. So, the question is; high flyers or brute strength?
Winner – The Authors Of Pain
Bobby Roode v Tye Dillinger
The all Canadian match up, of course Toronto is Bobby Roodes home town and you know the crowd are going to be glorious. Normally WWE hates letting a hometown talent win but is Tye Dillinger the one to derail the Glorious one?
In my opinion there can only be one winner and his entrance is going to be something to behold.
Winner – Bobby Roode
Aska v Mickie James
She's back! but let's be honest…Aska isn't going to lose here, if NXT need to rebuild the women division they need to build it around Aska as champion.
Winner – Aska
Shinsuke Nakamura v Samoa Joe
This is a tough one to call, both deserve to be champion. I've picked my winner and I think to loser will be called up to the main roster, probably to whatever brand loses at Survivor Series.
I expect to see a physical match with a number of big moves, Samoa Joe has looked strong since his debut, but Shinsuke Nakamura has looked unbeatable, the NXT Takeover main events have a habit of being quality matches, will it live up to expectations? we'll find out later today.
Winner – Shinsuke Nakamura
Thanks for reading I hope you enjoyed it, if you did be sure to check back for other opinion pieces or follow us on Twitter @nerdhubonline for our latest news.