With the WWE Cruiserweight Classic due to start on June 23rd (And hopefully a Cruiserweight Title to follow shortly after) lets take a look at some of the competitors that will light up the tournament.
Kota Ibushi
What's that? New Japan Pro Wrestling have a new rising start?…..had a new rising star, Vince McMahon has made sure WWE won't be missing out on a future star by getting him in early, he wrestles as a cruiserweight, high flying and fast paced, and I think one that will definitely make it into the final two.
Tajiri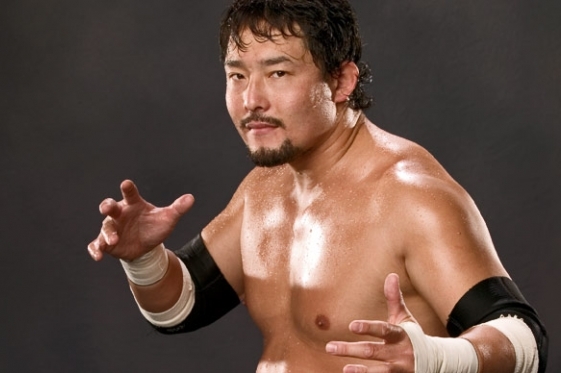 He's back! the Japanese Buzzsaw will take part in the Cruiserweight Classic. He's not going to win, but it's going to be fun seeing him in a WWE ring again.
Gran Metalik
If you like Rey Mysterio the odds are you'll like Gran Metalik, the two are cut from the same cloth, a special mention to his Corkscrew Somersault Senton Bomb, will we get to see it? any match he's in promises to be a spotfest.
Zack Sabre Jr.
My Tip to win it all and the former PWG world champion, did he drop the belt because he's about to sign with WWE and NXT? my guess is yes, and I'm ususally right, trust me on that.
Noam Dar
Quite possible the only Israeli-Scottish wrestler…..ever, straight outta ICW, if you aren't sure what that is and you live in the UK there is a interesting documentary about it on BBC IPlayer, check it out.
Da Mack
Can entertain the fans with highflying offence, will he be given the chance to shine in the CWC? if his shorts are anything to go by I think he'll go far…like quarter finals far.
Brian Kendrick
One half of the current longest reigning Tag Team Champions is back, will they match the former WWE stars together? I think so, actually! I think they will be used to put over younger talent, it'll be good to see him back, I wish it was Paul London but I can't have it all.
Rich Swann
The Dancing warrior, I wish that was his nickname, lets hope that sticks, Swann has already competed in a NXT ring and lost his televised match to Baron Corbin, another one I can see to be used to put over younger talent.
 Jack Gallagher
Hailed as one of the best technical wrestlers in the UK, and yay! another Brit, I hope he does well….I've already filled out my quarter final places with the one below…maybe he can take Da Mack's spot…who know! but we will find out soon.
Johnny Gargano
Fans of NXT will already be familiar with Johnny Wrestling, we all know WWE would rather push their own people rather than indie stars, despite Johnny Gargano being an indie darling he is a NXT star and future Tag Team Champion with Tommaso Ciampa, I can see a quarter final place….speaking of Tommaso Ciampa
Tommaso Ciampa
The other future Tag Team Champion on the list, Simply for the story I can see a Ciampa v Gargano match up in the later rounds and for it to end with a hand shake of respect the WWE like to do. Another one fans of NXT should be familiar with, a hard hitting throw back to days of old. I'm a fan.