Over the years, the WWE has seen its fair share of scandals, from violence, to drug abuse, and broken relationships. I suppose it's natural when it comes to a company that is the size the WWE is and the nature of its business. However, not to get too political in this post, it seems certain genders get punished more than others, and certain stars are shown leniency compared to others. Ultimately, we only see what's on TV and what's reported in the media, who knows what goes on behind their corporate doors. These scandals can happen inside, and very often, outside of the ring and every time, there is always a furore surrounding them.
It's been a hell of a PR storm for the WWE of late and I'd imagine the Big Daddy Mac and co. are pretty peeved off with the latest scandal.
Following leaked videos via hackers of WWE superstar, Paige and, well let's say she's 'tag teaming' with Brad Maddox and Xavier Woods, it seems the alleged hackers have more to give us in the coming weeks.
In light of the Twitter storm following Paige and co scandal, let's take a look back on some of WWE's biggest scandals.
Macho Man & Steph McMahon 
Unfortunately, this rumour appears to be the most likely of one to be true. In 1993 Macho Man and a 17-year-old Stephanie McMahon allegedly had an affair. Savage had already retired in 1991 and returned as a colour commentator for the WWF. However, as soon as word got out that he had allegedly done the dirty with Stephanie, Savage was soon black-listed from the WWF. He was effectively written off for many years. Finally, in 2015, Savage was inducted into the Hall of Fame and got the recognition that he deserved.
Steroids in the 90s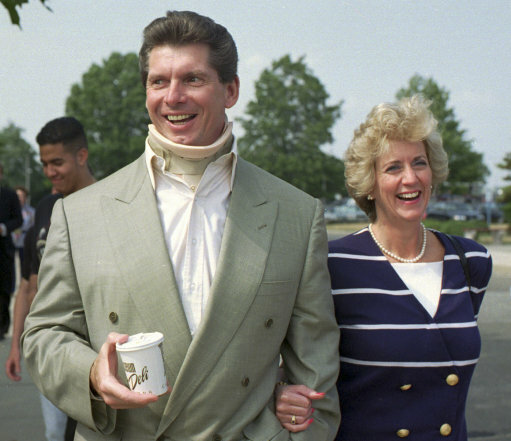 In 1993 the WWF saw the biggest trial of their corporate existence, the Steroid Trials. After an immense run in the 80s, the early 90s saw McMahon and co. exposed for supplying drugs to their wrestlers. The size of Hogan and Ultimate Warrior, well, there's no denying there were forms of enhancement drugs being used. In 90s the image of the WWF changed to more leaner looking wrestlers rather than sheer mass as it had been in the 80s. McMahon wormed his way out of the trial and WWF continued on.
Shawn Michaels and Vince McMahon
One of the most well-known rumours yet probably one that isn't even remotely true. However, they always say where there's smoke, there's a fire. The source of the rumour began when Road Hawk was having some issues with the WWF, he openly stated there was a sexual relationship between Michael's and McMahon. However, Road Hawk never gave anything in support of the sweeping statement and it was well known that McMahon rarely mingled with wrestlers outside of shows. However, it is known that Michael's and McMahon are very close outside of the ring, he continued to pay HBK when he was out for 4 years and McMahon also broke down in HBKs retirement speech in 2011. Personally, I don't think it's true but even if it was, we'll probably never know.
Jimmy Snuka: The Murderer?
Superfly has been credited for introducing high-flying wrestling to the mainstream, however, there has always been a dark cloud that has overshadowed Snuka for the rest of his life. In 1983 an ambulance came to take Snuka's then-girlfriend, Nancy Argentino to the hospital. Unfortunately, Nancy died shortly afterward having died from cranial injuries which caused traumatic brain injuries. The injuries noted were similar to those that could be sustained by domestic violence. For 32 years Snuka was left without charges being pressed against him, so the case was left open. In 2015 Snuka was arrested for third-degree murder and involuntary manslaughter. However, Snuka was diagnosed with stomach cancer shortly afterwards, and his mental capacity to stand trial was always an issue. Superfly died in January 2017 from cancer and therefore we will never know, formally, who killed Nancy Argentino.
Lita and Edge
There have been numerous sex scandals within the WWE, most prominently related to Big Daddy Mac, however, the Edge and Lita one had that extra, well, 'edge' to it. I was a huge fan of Lita back when she first started, and especially when she joined forces with the Hardy Boys. In my eyes, as a young girl, she was the coolest woman to ever hit WWE. Then she got with Edge, and well let's just say her image changed to suit his Rated 'R' superstar gimmick. Little did we WWE fans know that Lita had secretly been having an affair with Edge whilst still in a relationship with Matt Hardy. As Matt continued to break kayfabe during this time, he was then let go by the WWE. Matt was then re-hired for the real-life circumstances to be used as a storyline. Ouch.
So there they are some infamous scandals that I am sure none of us will forget. What scandals stand out for you? Let me know in the comments section below.